Seattle's Best Valero - Just got off late from work and had to get a quick dinner before heading home. With a very limited choice of dishes (of course this is just a coffee shop that serves food), I opted for Amatriciana, I don't know what it is but it's just another pasta. Looking for something to feed my thoughts in a nearby magazine rack which always give me a choice between cooking and car magazine and most of the time cooking magazine wins. But this time the begging just seems to be persistent ("Please read me!"), so I picked up the car magazine and started from the end of it. There are several reasons car magazines in this rack loses the "reader's pick" (that's me, by the way) award, and I have to start in the end so that my brain won't have shitty afterthoughts. Ok, pinoy-based lifestyle car magazine, here we go..."there something in it when it hits the autobahn...blah, blah, blah", "...it's a familiar European look, but to those brought up to corolla it's totally a different world...blah, blah, blah, yadda, yadda, yadda...", "I had a taste of the LeMans when I was 18...airy,fairy,airy,fairy..."
That's the reason why I have to start from the end, this lifestyle car magazine is way too "distant". The absence of "relationship" between writer and reader is so evident that they have to come up with the silliest Buyer's Guide section with tons of mundane, cloudy pictures to go with it. And how many Mercedes-Benz has been featured? ONE! One that doesn't even exist in this part of the shore, a glass top AMG W212 with a Cali license plate in it. If these guys are having a hard time finding exotic cars around town, how much more finding exotic girls? What a bunch of g*yf*ckers (censored to avoid unwanted Googlers).
So I whipped out my mobile phone, browse thru my picture album and...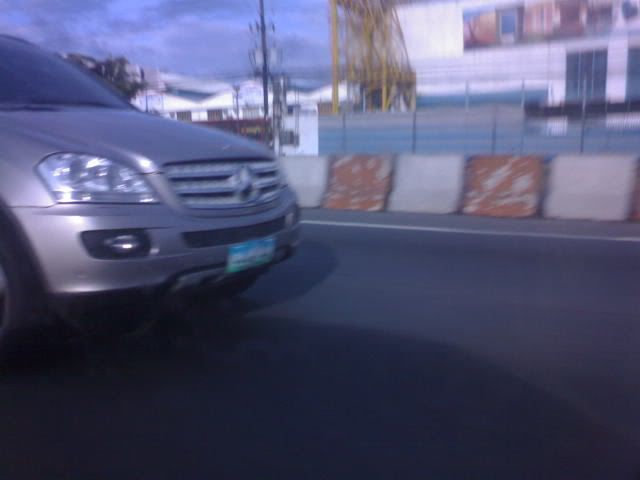 I realized I just shot an ML320 at SLEX Northbound. Not that I want another Mercedes SUV as a pick of the week, I just want to relieve my brain from that insidious lifestyle car magazine c!rap. So lazy to learn more, I typed the URL "http://www.cats.com.ph", hit Enter and...wha! "Page not Found". What a f*cking freeloader, it has to be "http://www.mercedes-benz.com.ph", there! Do I need to tell further what ML320 is all about?
All I know is what I spotted was a 2007 not 2008 SUV, Bluetec or no Bluetec I don't really care much. One thing is for sure, this chap is enjoying the view of Klaudia's ass so I have to slow down to get a better shot. To the buzzword freaks, this is known as the midsize Crossover Utility Vehicle (CUV). In other words, it's a Big Car. Designed based on the monocoque(sorry for the lack of a layman's term) structure of a car and its non-truck chassis that is common to the SUV. Rest assured Erap will never going to have a "=16" markings in this ride(you'll find out what I'm mean soon).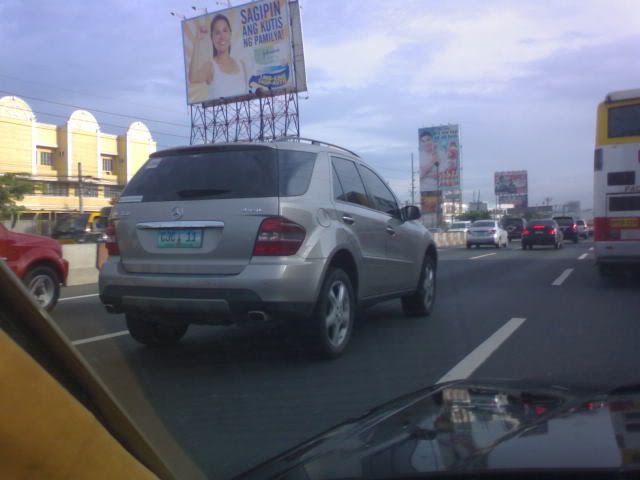 The W164 which is also equipped with 7G-tronic automatic transmission that is
soooo damn useful
in Manila's traffic and flooded streets, for sure the kids will going to enjoy an occassional splash at speed.
I didn't even paid much attention to this junk at MIAS so why put this as Merc of the Week? Well, this week is a rainy week, a brat who lives off from his dad's allowance has to be caught in the flashflood "in style" and an ML320 will just breeze him through that just as capable as the Musso and the Sorento. Well, this is just one of the not "Made in W. Germany" Benzes around so good luck.
Lessons learned: 1.) Not all Picks of the Week are cool 2.) Get a life, lifestyle car magazines still sucks.
I don't want to taint my blog with heavy "lifestyle-ish", technical nonsense. So believe me, "http://www.mercedes-benz.com.ph" really works. Try it, that's what you call "connection". :P